MEET BEN HAWKER
Sports Massage Therapist in Newark-on-Trent
I've always been fascinated with the human body and anatomy, how muscles move and work and the whole structure of the body. After suffering a career ending injury whilst playing football, I decided to dedicate myself to becoming a Sports Massage Therapist (SMT) to help treat others.

This has helped me to still be involved in football as a physio. I have worked for a number of clubs through the years : Newark Town FC, Loughborough Dynamo, Grantham Town Fc, and Basford United - Currently working for FVC International Academy
Certified Level 3 Therapist
Membership with the Sports Massage Association (SMA)
Proudly registered with the SMA as a Level 3 Therapist, upholding the highest standards of professionalism in physical therapy and continually enhancing expertise for exceptional client care. Grateful for SMA's support.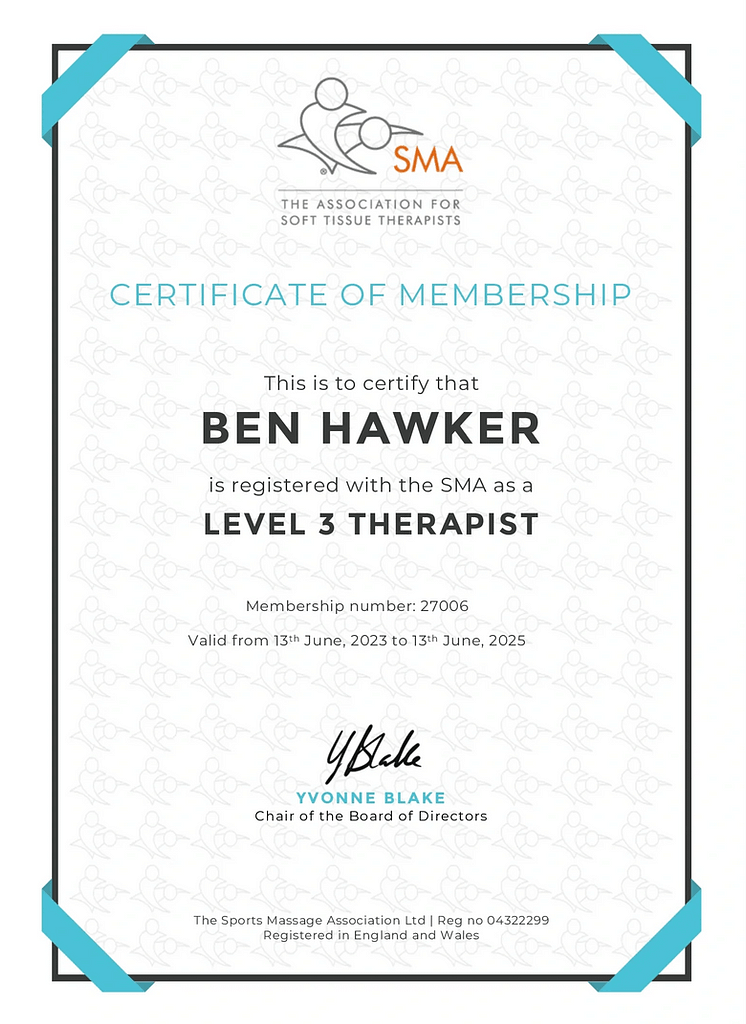 Why Consider Me as Your Physiotherapist?
Serving Newark with Genuine Care
I believe in understanding your needs deeply and not just skimming the surface. Together, we'll map out a treatment approach that's right for you.
Client's Feedback
What Client's says about me
Found Ben after I injured myself while training for a full distance triathlon. His knowledge and support have been second to none. As well as weekly sports massages He fixed a last minute IT band issue which I thought would scupper my race entry, but he fitted me in at very short notice and kept in touch daily. 14 hours of racing and not a single issue thanks to Ben……
My wife brought me to Ben, he was very friendly and very professional. Sorted me out when I was having a couple of muscle issues, highly recommended
Been to see Ben a few times now - sorts my issues / injuries out straight away. Always happy to help and fits me in no problem! Very knowledgeable and great with his hands 😜😂
Ben was amazing at releasing my back off. Loved having the Soverign CBD massage wax too
I go to Ben regularly for my back mostly, he is also my physio at football. He's looked after me so well since I've met him. Such a lovely guy. He has helped my back a lot and any other problems I have he always has time to sort it out too. 10/10! My husband also goes to Ben now too.
Having originally enjoyed a sports massage I later returned with a hamstring and glute issue that I could not resolve. A few sessions and post session advice has me back running again. Appreciated the out of hours call/messages asking for updates. Ben knows his stuff with a lovely manner as well.
Ben is ace! And the setup at Aura is clean and relaxed. Perfect for a massage
I can't begin to tell you how much of an improvement I have seen following a visit to Ben. I have suffered for many many years with an ongoing hip issue. I visited Ben just prior to golfing for 5 days, where in the past I would have suffered from a lot of pain, I had none. Highly recommend! Thanks Again Ben. Dave.
Excellent sports massage for my lower back and legs. Highly recommended
I went to Ben with shoulder pain and he went straight into sorting it out. As a woman he made me feel comfortable and as ease.
Need a Refreshing Massage?
Just Schedule Your Appointment and Feel the Difference
Frequently Asked Questions
Find quick answers to common queries. If your question isn't listed, feel free to reach out directly. Contact Us